Inquire further
Simply fill out our information request form below and we will contact you, or call 508.747.2237.
JCM Opportunity Fund Edge College Hill Ribbon Cutting Ceremony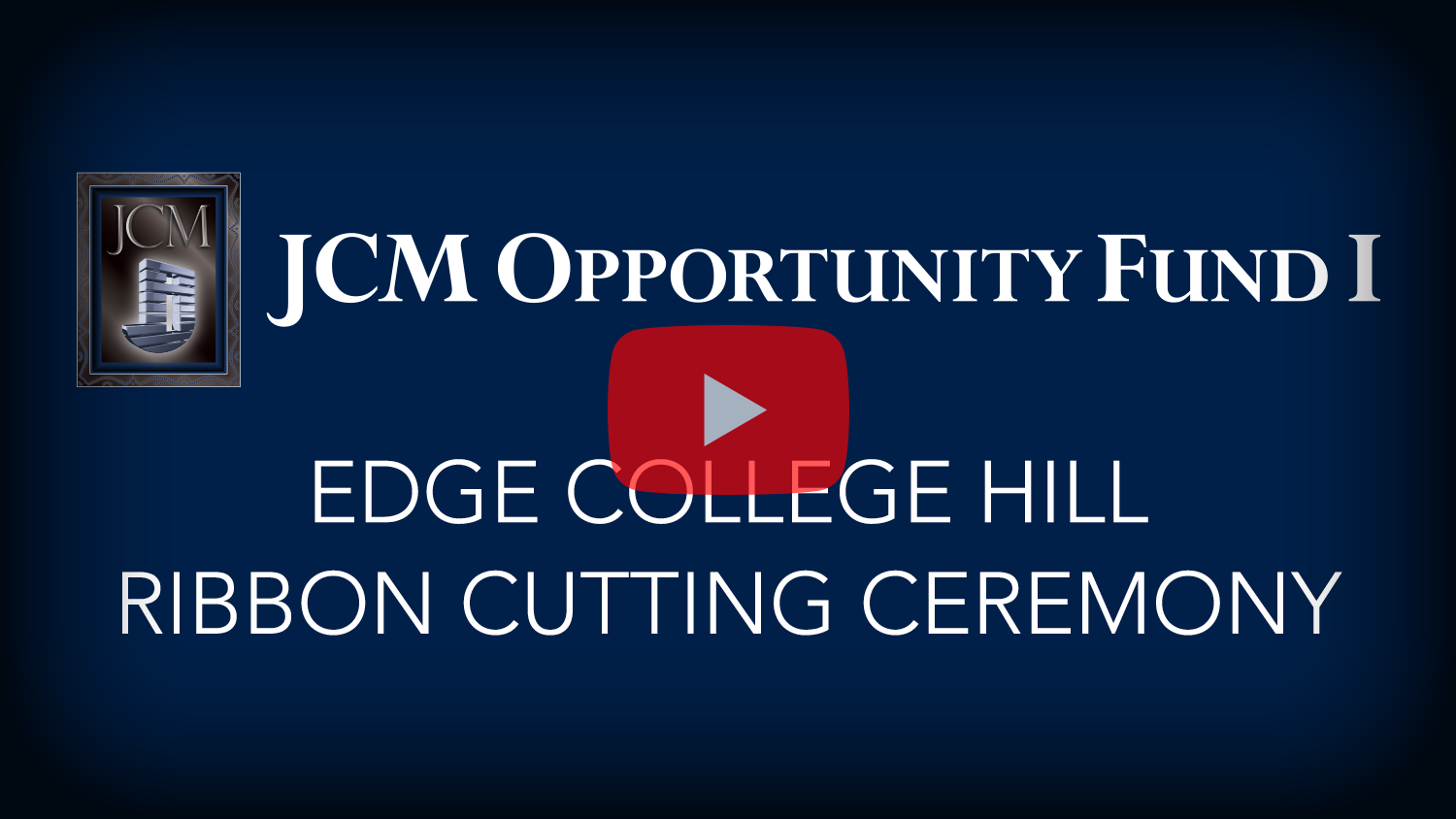 Click on the arrow above to watch a video of Edge College Hill's Ribbon Cutting Ceremony.
Read a feature article on the Fund's investment in The Boston Real Estate Times.
---
JCM Opportunity Fund I, LLC Invests In Edge College Hill
Seventh Private Equity Fund Investment is in Student Housing in Providence, RI
PLYMOUTH, Mass. (Oct. 29, 2018) – Joyal Capital Management, LLC said today that its private equity investment fund, JCM Opportunity Fund I, LLC, has invested $11.5 million in Edge College Hill, in Providence, R.I., marking the fund's seventh investment.
Edge College Hill is a 226-unit, 237-bed student housing facility, the first purpose-built student housing in historic College Hill in Providence, and serves the student populations of Brown University, Rhode Island School of Design (RISD) and Johnson & Wales University.
The development is centrally located, readily accessible to the city's many cultural and entertainment offerings. Constructed in only 12 months, with fully furnished apartments, a 24/7 fitness center, controlled building access and a rooftop lounge, the property is a fitting and highly functional solution to student housing in an urban campus setting.
"The JCM Opportunity Fund could not be more pleased with the Edge College Hill facility," said Gary F. Joyal, Chief Executive officer and Managing Partner of Joyal Capital Management, LLC. "Our partnership with Rick and Mary Shaffer of Vision Properties continues to produce an exceptional student housing product that fills a vacuum that has existed for decades.  I look forward to continuing our mission to provide housing alternatives for students that would not exist otherwise."
Urban areas including Providence, with concentrations of institutions of higher education, are challenged because of growing student populations competing with residents for housing supply. Many cities have encouraged colleges and universities to house more of their students on campus or, alternatively, provide places for them to live.
About Joyal Capital Management, LLC
With thirty years of experience, Joyal Capital Management, LLC represents high-net-worth individuals and family-owned businesses on mergers and acquisitions, financing, private equity, estate planning and family office services. The JCM Opportunity Fund I, LLC, JCM's private equity arm, focuses on fast-service restaurant franchise and real estate investments. The Fund has made seven investments, three of which have been completed and four of which are ongoing. For more information, please contact Jeffrey Richard, Senior Analyst, at jrichard@joycapmgt.com, or 508.747.2237. Also, www.joycapmgt.com.
This JCM Opportunity Fund I, LLC (Fund) announcement is for informational purposes only for the confidential use of the intended recipient. No announcement information may be construed as an offer of, solicitation of an offer to buy, recommendation of, representation of suitability or endorsement of, any security, investment fund, interest in real estate or other investment. Any such offering shall be made only to qualified investors by a private placement memorandum or a similar document containing risk factors and accompanied by other definitive offering documents, distributed by persons authorized by the Fund, and only in those jurisdictions where permitted by applicable law. This announcement is not such an offering document nor shall it serve or be deemed to alter, supersede or amend any such offering document.